Our Facilities

We are located just southwest of Beggs, Oklahoma in the heart of Green Country.
We offer stalls with attached runs, dry lots and/or full pasture turn out for the horse's benefit. The stalls have fans and mister systems during the heat of the summer.
We have a 100x150 outdoor arena and a 50' Round Pen along with trails and pastures to ride in.
An obstacle course for In-Hand trail and Trail Class training is always available.
We grow and cut our own fertilized Bermuda/prairie grass hay.

barns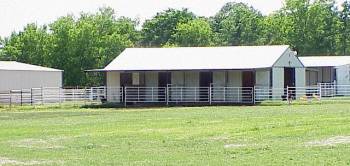 The barns are large, spacious and airy. The mister system runs along the outside of the covered stalls. The barn to the left of the photo has an indoor riding area as well as stalls and storage area. The central barn has hot and cold running water in the sink of the tack room, a full sized refrigerator and a secure feed storage area.
arena/round pen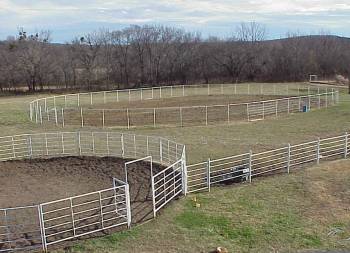 The arena can be comfortably used for many different riding styles. We also have a set of standard pole bending poles, barrels, ground poles and many other configurations available.