Geldings

Most of the geldings at the ranch are either personal mounts, or they are being trained/evaluated for sale. Many of theses may be found on the sale page in upcoming months.
Sandra Good asset
Red is a 15 year old red dun gelding by Good Asset and out of a good using mare, Sandra Alloy. He is registered both with the AQHA and the FQHR. We will be showing him at the OkFQHR this year. He has performed in everything from HUS to parades, barrel racing to lesson horse. He is smooth to ride and a joy to work with.
Old Paint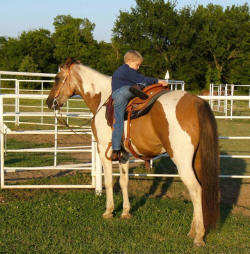 Paint came to live with us in the summer of 2004. He was lame, thin and looked like he needed a good home. We fed him up, diagnosed some minor ringbone and treated that with supplements and special shoes, and he goes sound and happy these days. He has partnered up with our youngest son, Ian, at playdays and on the trail. He is as trustworthy as a mount can be, and I thank God for him being in our lives. Paint was humanely euthanized in May 2010 afer a wonderful life.
teddy
Teddy came to us in the winter of 2004. He had some bad luck at his previous barn, but is coming right along now. Teddy has found his new forever home and we wish Teddy and his new owner many years of happiness.
Diablos Thunderbolt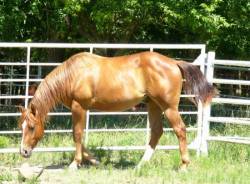 Thunder was foaled on May 1, 2002. He is by Dukes Diablo and out of a double bred Docs Hotrodder mare, Ms Brass Bell. He is a stout, well-built horse. Thunder has over six months professional training and is used in ranch work. He is a smart, good looking gelding that will go far. Thunder is for sale.