Training
The horses of the Rocking N are our lifeblood and our joy. We strive to breed the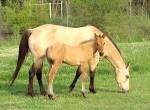 best working Foundation Quarter Horses available. Our breeding program focuses on disposition and temperament; conformation suited to hard working ranch horses, and finally bloodlines tracing to the finest examples of working and performance Quarter Horses. The foals are handled from birth, taught respect in a firm but gentle way. In addition to respect, each weanling is taught to trust its human handler through the use of in-hand trail obstacles and daily training.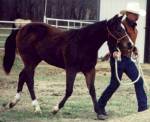 Many of the yearlings are shown successfully in IHT classes at the FQHR, WFQHA, and other associations. Their education continues as two-year olds with an introduction to longe lining, the weight of a saddle and finally driving. They continue to be shown in IHT through their second year.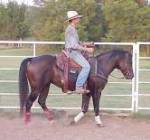 At the end of their second year, they are ridden for the first time. This is usually just another day in their lives that they accept with the same calm unflappable attitude they have learned to display all along.
Training Videos:
Katie and Lena - Yearlings side passing in tandem
Trailer Loading 101
No Horses Allowed