Extreme Mustang Makeover 6/12/07
Tuesday, June 12, 2007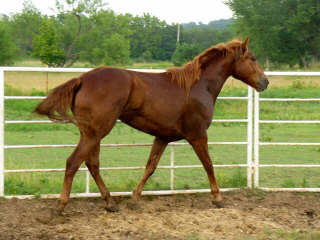 Not a lot to update today, but some great progress has been made in leading, so I thought I'd share some of that.
The first trick for us right now is to find time between rainstorms to actually get any work done. But after last year's drought and firestorms, I'm not really complaining.
Today was the day to apply just a little more pressure to judge reactions. He did really well in moving away at liberty, and turning to face Ted when asked. He's certainly not 100% solid on it, but much farther along than I ever imagined we'd be at this point in time.
addressing issues: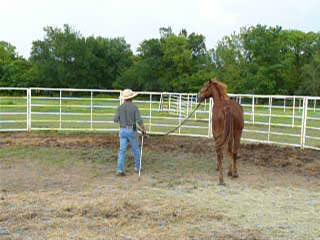 One of Big'un's issues has been learning to lead. One of Ted's favorite phrases is, "If something isn't working, find another way." So that's exactly what he decided to do tonight. One of the things Big'un seemed to be able to do and actually enjoyed was moving out at the walk on a longe line. If he can do that, then we'll use that to teach him to lead!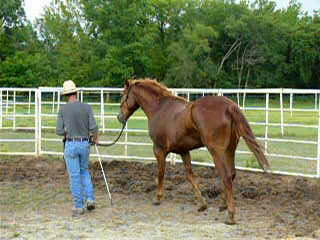 Ted began to ask Big'un for a slow circle around him, following from the driveline. After a few times, Ted started asking for the walk while moving ever closer to the leading position. Still not perfect, but you can see from the following video that it is really paying off!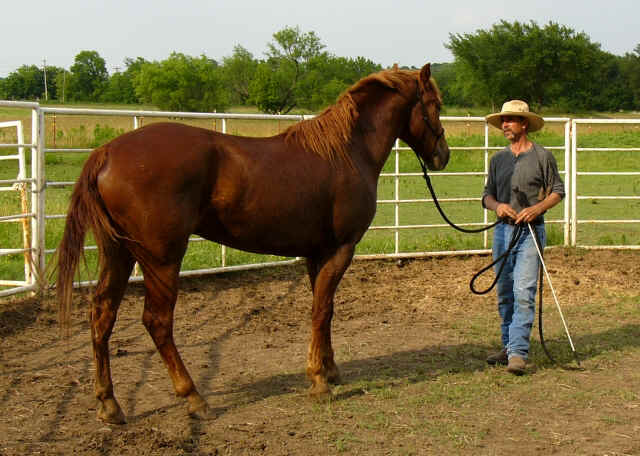 Discussing what a good boy he is and how well he's doing.