Extreme Mustang Makeover 7/10/07
Tuesday, July 10, 2007
More rain. Several days of it, and more to come, but we got a little break the afternoon of the 10th. With the round pen and the arena both too wet and slippery to be safe, Ted decided that the trailer could be moved to a relatively high and dry area of the road and Amigo could meet the trailer.
trailer loading 101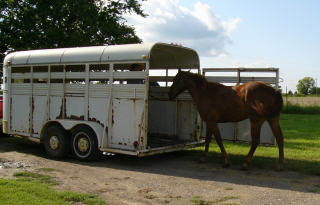 The mustang's only experiences with trailers have not been necessarily happy ones, so I was expecting a long session the way Ted usually approaches trailer loading with wary horses: getting closer to the scary object, backing off, approaching closer, resting, taking away the pressure, until finally Amigo would accept the trailer. I could not have been more wrong! Amigo scarcely paid any mind to the big scary white thing, and the video clip that follows is the ENTIRE first approach/loading session in just two minutes.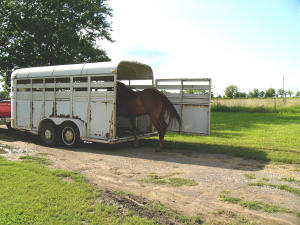 By the end of the trailer loading training, Ted could ask Amigo to place each foot in or out of the trailer entering or backing out, and hold it there until he was asked to move again. I need Amigo to show some of my Quarter Horses how it's supposed to be done!
After a few minutes of trailer work, Ted decided to take Amigo for a walk up the driveway to the road. This gave them the opportunity to see new things and move out of his comfort zone a little bit.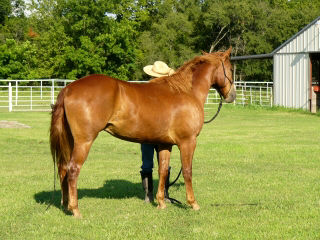 Getting Ready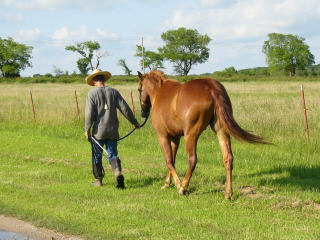 Going up the road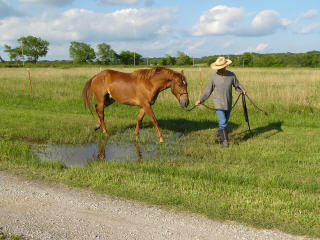 Crossing the swampy places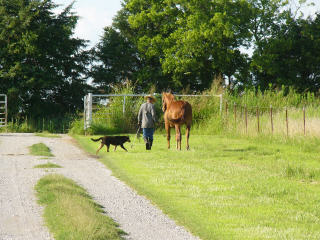 Buster has to go along, too. Almost to the real road. A couple of riders passed by, and one car, nothing phased him.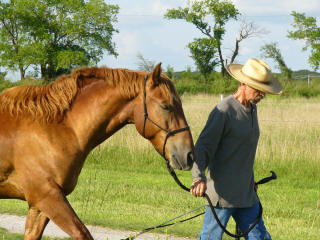 I just like this picture. Buddies enjoying a walk in the warm evening sunshine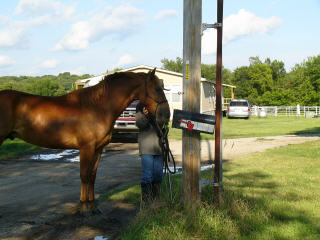 Any mail for me?
Ted was wearing out after this, so he let Amigo graze in the yard while Ian and I groomed him. About this time some friends came by to check on Ted, and then Tommy showed up with his horse, Peppy. So we decided to take advantage of that...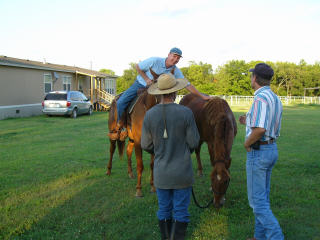 So far so good! This is Peppy's first real ponying experience and Amigo's, too!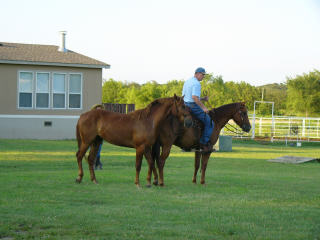 Looks Good so far!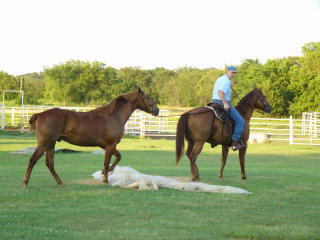 I promised Tommy I wouldn't show how Peppy balked at the tarp while Amigo patiently waited while Peppy decided it would be safe to cross. We told Tommy to just send Amigo across first to show Pep how it was done!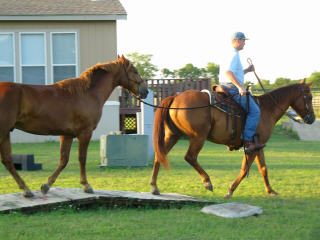 And crossing the bridge to nowhere was no problem.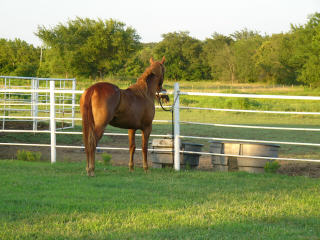 Finally, Amigo has learned how to stand tied, patiently. Those Blocker Tie Rings are worth their weight in GOLD!