Extreme Mustang Makeover 9/01/07
time to hit the trails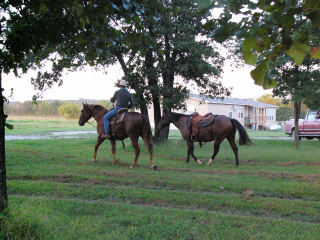 Friday night August 31st, Ted and Amigo and Stormy and I hit the trails around the property together. We rode the open front hay meadow, around the pond, across the creek and through the trees again and decided that Amigo was probably ready for a real trail ride come Saturday. After the ride on Friday, we thought a little ponying experience might be good for both horses. So Ted and Amigo ponied Stormy around the yard for a while.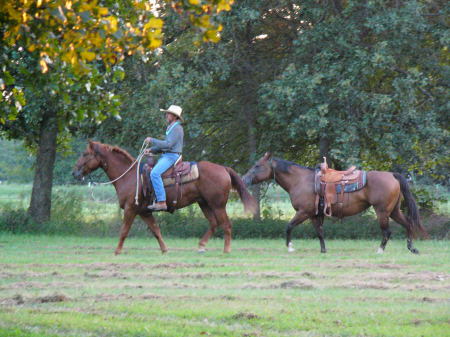 Pastor Tommy and Amigo
Earlier in the day, Pastor Tommy came over and rode Amigo for quite a while. They had a few discussions about how things were going to be, but they ended up have a pretty good ride. I think Tommy's saddle just didn't fit Amigo quite as well as Ted's and he protested about that some. No pictures, since I was at work at the time.
Okmulgee Game Refuge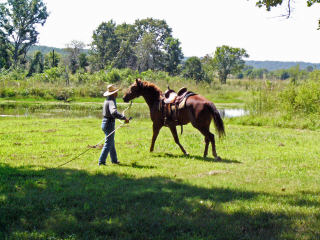 Saturday morning we loaded Stormy and Amigo and headed off to the Okmulgee Game Refuge, where there is miles of wilderness trails. We got there around 11:00 and saddled up at the trailer fighting off dive bombing horseflies the entire time. Ted gave Amigo a few warm up laps on the longe line just to make sure he was paying attention, and then we mounted up and took off. Ted didn't think I needed any distractions as this was my first time really back on trails since my accident a few years ago. So he took charge of the camera while I was mounted. He took a couple of pictures of me, but I didn't get any of Amigo actually out in the wilderness, until we got back to the trailer.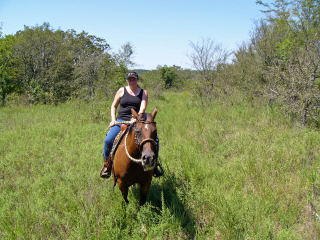 Both horses did exceptionally well. This was the first time on trails outside our own property for both of these horses, and they took everything right in stride. They crossed water, climbed hills, came down rocky slides and even blazed new trails when we lost the main trail at one point. I could not have been happier with either one of them, and Amigo did the whole ride in his rope halter! At this point, we're feeling, if it ain't broke....