Extreme Mustang Makeover 7/06/07
Friday, July 6th, 2007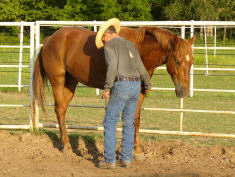 Ted was feeling well enough tonight to get out and reacquaint himself with Amigo. They spent time just going over all the lessons he'd learned before Ted's illness, and reestablishing their relationship. They both truly enjoyed that part. With all the rain and mud we've been having (and they're predicting more all next week) Amigo's feet were in sad shape. It was time to see about a little farrier work on the big guy. Pastor Tommy came over about that time, so with his help, Ted was able to trim Amigo and get some additional work accomplished without over stressing himself.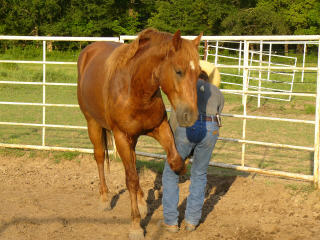 Amigo had already learned to give his feet softly when asked, and they had been picked out a time or two, but trimming was another matter. Ted worked slowly, increasing the time he held the foot each time he asked for it, until finally Amigo was very comfortable with the left front. The right front was a little more work, but he got it within just a few minutes. Now that he was able to hold them for as long as necessary, it was time to get the tools. Amigo likes to check out each item used, a good sniff and a taste, and they are pronounced safe by Amigo. With a little help from Tommy, Amigo's trim was nearly picture perfect.....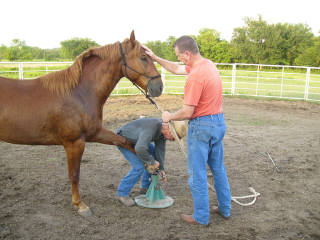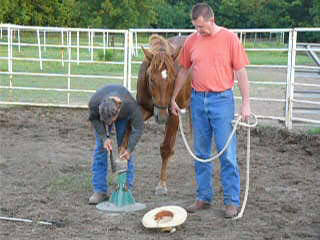 And, yes, Ted's hat is on the ground in this picture because Amigo took it off and threw it over there!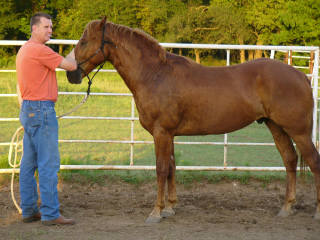 In between the trimming, Ted would have to take breaks because he is still not back to full strength. During those breaks, Tommy worked with Amigo some. This is good for him, because we want him to be accustomed to many different people being able to handle him. And Tommy is great with horses, so it works out well!
He also got a little free time to blow off steam and be a horse!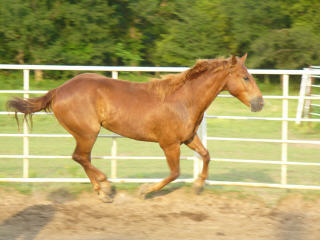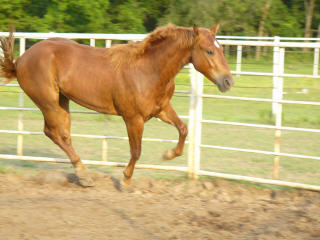 After the trim and free time, Ted did some ground driving exercises, rope desensitization, and flanking on Amigo. After some initial issues with the feel of the rope across his hocks, he seemed to settle right down and was fully accepting the driving process within minutes. Unfortunately, it was getting too dark for any good shots of those processes, but there will be plenty of future opportunities.