Extreme Mustang Makeover 8/14/07
Hay, heat and horseflies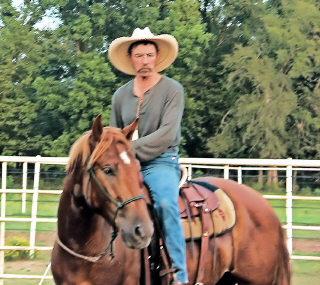 It's been a while since I've been able to add an update to the website, but be assured Amigo is well and pampered! It has been unbearably hot here. Daytime highs have been 103 to 105. Combine that with the humidity, and you have working conditions that are simply unsuitable for man or beast. Amigo spends his days in his stall with the fan blowing on him while all our other horses are left to the ravages of fending for themselves in the pasture. Of course they have plenty of shade, water, and green grass so things aren't all that bad for them. In addition to the heat, we are in the middle of hay harvesting, which takes up another large chunk of our time. But we're not complaining, after last year's drought and the flooding rains earlier this summer, we're just happy to be cutting the hay!
Ted and Amigo have been sneaking in a few rides in the late evening hours after the extreme heat has dissipated for the day, but that leaves very little light for any pictures or videos, and lots of horseflies to bite and pester. The first session after his chiropractor visit was Monday, the 6th of August. He was fresh and full of himself. Ted identified some areas that needed work, but unfortunately they had to wait on hay. The rest of the week was devoted to hay.
Just a few pictures of miscellaneous rides throughout the week...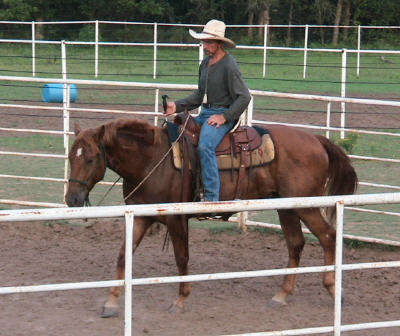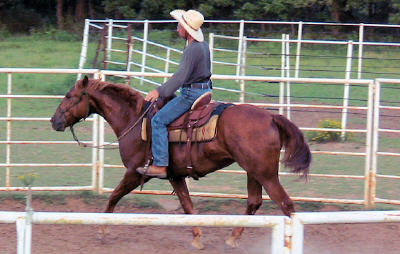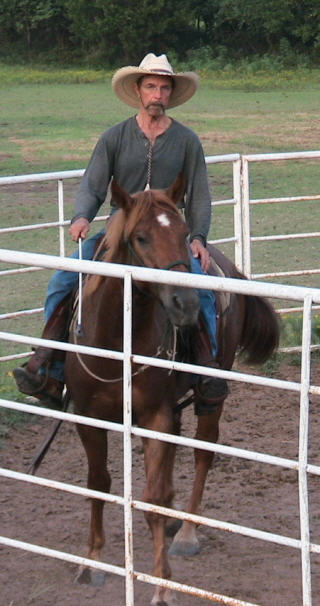 Time to hit the trails
On Saturday evening August 11th, Ted and I took Amigo and my mare Stormy to the Okmulgee Game Reserve about 5 miles south of our home. We decided that since Amigo has not yet been away from home, and Stormy has only been a show horse that it would be best to just walk the trails and lead the horses the first time out. Pastor Tommy joined us with his seasoned trail horse, Peppy, and we had an awesome evening. We killed at least three dozen horseflies apiece, but other than that, it was a great evening! Both Amigo and Stormy acted like old trail pros, and we're looking forward to hitting the trails again, riding this time! Sorry, no pictures - forgot the camera!
More riding and more riders
Monday night, August 13th, Ted and Amigo were back in the saddle, again just practicing upward and downward transitions and working on steering and control. After a while, the boys asked if it was time that they could take a turn on the big red mustang. IT WAS! Both boys were little more than passengers tonight, just seeing how Amigo would react to them and letting them get a feel for a really green horse, but they all had a great time! In spite of the low light, I managed to get a couple of pictures and a short video of them...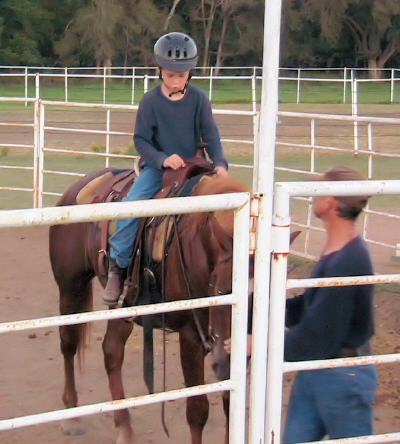 Amigo and Ian
(Ian's idea to wear the "brain bucket!" Made my heart sing.)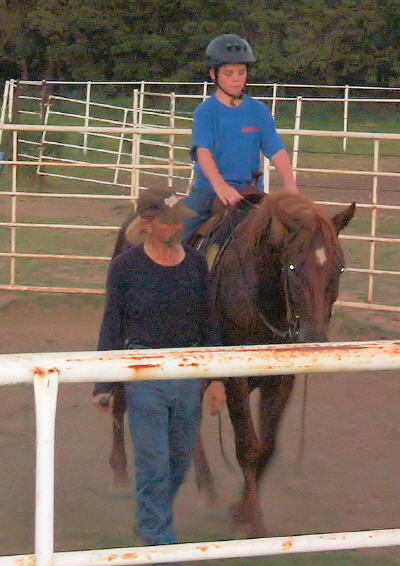 Amigo and Phillip
We were losing what little evening twilight we had,
and Amigo's eyes picked up the light/flash very strangely!


Ted and Amigo

Amigo and the boys, August 13th, 2007