Extreme Mustang Makeover 7/06/07
Saturday, July 14th, 2007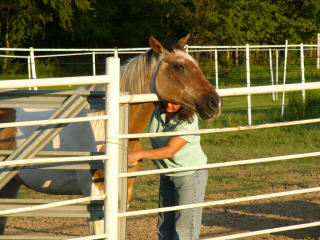 Liza came over today to visit Amigo. Ted had another appointment in the afternoon, so Liza and I took Amigo out and gave him a good grooming. I worked with him a little in the round pen, but the afternoon heat was just a little too much for me. Paint got some good loving from Liza, too!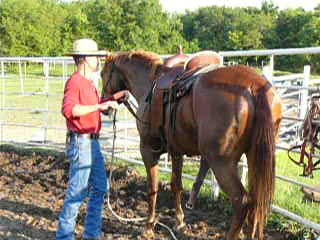 Once Ted got home, it had cooled a bit (not enough for me, but then I don 't do heat!) And he got Amigo out. They went over the basics again. You can never go over ground work enough. If you can't do it from the ground, you can't expect to do it from the saddle. Amigo was definitely full of himself tonight, but settled down and went to work without too much fuss. Ted had him do some reinforcing ground work, single rein driving and a flank rope, which made for a bit of bucking. Then it was time to be saddled for the third time, the second time for the big saddle, and Ted was able to do it with Amigo on a loose lead, not tied or held.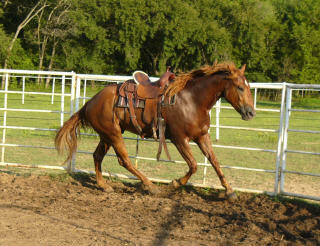 A few times around the pen to get the feel of the saddle before introducing the bit. There is a clip of the bit being introduced for the first time in the video overview of the day. It was not even an issue for Amigo as he took to it like he does most everything. Ted sent him around a few more times to get the feel of the bit, did some simple ground reining, and it seemed like Amigo was ready for that all-important first ride. The overview video below has the first mounting, and a small snippet of the first ride. Unfortunately, due to technical difficulties, much of the video from today was lost - blame the operator (me) for trying to use an RW disc one too many times. Yes, I have bought new discs.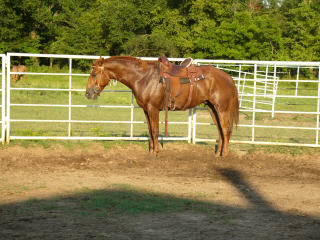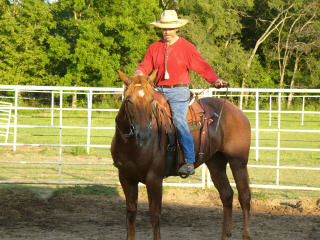 And since it was still over 90 and H U M I D - Amigo got a nice rinse down!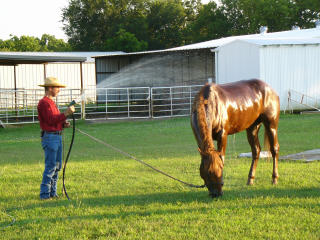 Video: Overview of the day's work