Extreme Mustang Makeover 6/19/07
Tuesday, June 18, 2007
Another day spent learning about obstacles, overcoming scary situations and getting a good hosing! Once again the weather was working against us. The round pen and arena are both still standing in water, and though it didn't rain at all during the day on the 19th, it did open up with severe thunderstorms about midnight and continued raining until after 8:00 am on the 20th. Ted is becoming very frustrated with the situation, but he perseveres.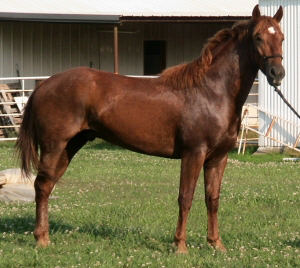 Fortunately we were able to bring Amigo out to the training yard, which while slick and squishy at least has grass to help with the footing. It's hard to believe that this time last year we were suffering under a drought and our biggest worry was wildfire and whether there would be any grass to cut for hay. The temperature when we started was still around 95 and the humidity was in the 75% range. We were all dripping with sweat within moments, and all I was doing was taking pictures!
Bridge to nowhere, tarp and sacking
After a little fly spray, which only seems to annoy the flies, once again Amigo was asked to cross the wooden bridge to nowhere, which he did with no hesitation. You can see that on today's video synopsis. Then the plastic tarp, again only asking and he went right across. His leading is getting better and better, and while it's still not perfect, these exercise help to establish the trust he needs to face any situation.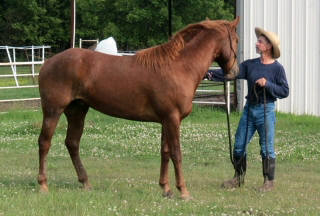 Today was also the day to meet the sack again. Ted spent only a few minutes sacking Amigo today. Again the second exposure to the scary white Wal-Mart sack on a pole. Amigo doesn't mind, once he's mouthed something and pronounced it safe, he seems to pass on it.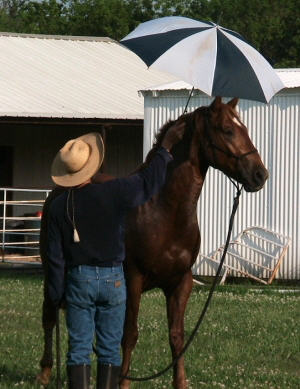 Amigo had lots of praise and grazing "rest time" during today's session. After doing so well with the second day of these objects, Ted decided to introduce him to the umbrella. That was almost a non-event. You can see him meeting the umbrella and being sacked with it on the video.
After doing so well, it was time for a cool down with the hose, one more new item in today's agenda. Once amigo discovered the joy of the cool mist and eating the water stream, he kept asking for more!
Video Synopsis of Obstacles and Sacking