Extreme Mustang Makeover 7/31/07
Tuesday, July 31st, 2007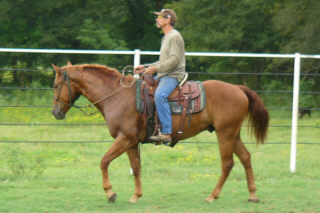 Still fighting the rain, so unusual for this time of year here. We had nearly two inches on Monday, making for very slick and dangerous footing today. In spite of the mud, Ted and Amigo managed to have a fun evening. Most of their time was spent just hanging out and clowning around. But Amigo did make the transition to the big arena in the main pasture. This involved crossing the mare/gelding mixed pasture to get there. No one seemed to even take much notice, including Amigo.
The above video shows Amigo's first venture into the arena, and you can see even as slow as they were going just how slick the footing really is. At the end of the video, as Ted asks Amigo to back up, Amigo thinks getting the horsefly that's been annoying him would be a far better idea, but he manages to get both accomplished.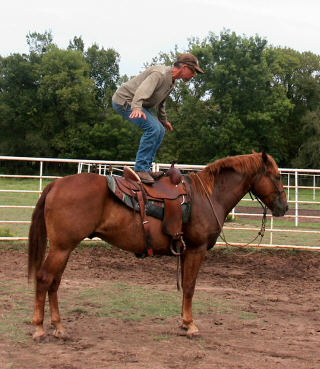 So if it's too slick to do much riding, you might as well practice some tricks, right? I think this falls under the category of "do not try this at home!" But it's still a wonderful picture of the trust between them.